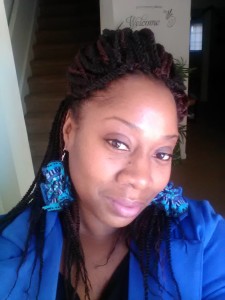 NAME: LaQuita McBride
BUSINESS NAME: Oh Soo Butta
TITLE:  Entrepreneur and Community Service Worker
HOW DO YOU DEFINE SUCCESS? I honestly define success as being the stepping stone to every block you can overcome in life by creating your own unique vision for. And most importantly, loving yourself through it.
WHAT (3) PROFESSIONAL ACCOMPLISHMENTS ARE YOU MOST PROUD OF? I'm still a work in progress in this area. So, I'll say I'm proud of not giving up completely.
WHAT CHALLENGES HAVE YOU ENCOUNTERED ON YOUR JOURNEY TO SUCCESS? I've encountered many challenges with myself with doubts. Being my own cheerleader was becoming a thing of the past many times during this journey. Once I began to realized that the storm may get bigger but my faith can withstand all. I then, learned that challenges are going to come even when your in a good space. It's all about how you handle the challenge and put things in perspective after you overcame it.
WHAT MOTIVATES YOU? Movement in life. If things around me are stagnant, then it's easy to adopt that negative behavior. Everyday that God wakes me is motivation to do something with my time. I love helping people in different ways. It's who I am as an individual. When I began to tap into my creative side. I notice how my being was different. I found another side of me and I love her.
WHAT PRINCIPLES OF SUCCESS HAVE YOU LEARNED ALONG THE WAY? I'm learning that no matter what,you can feel all alone in a room full of people but the difference in self says a lot about who you are and what your willing to bring. So, I've learned when God gives you an opportunity to discover your true self, grab hold and accomplish the mission of gratitude always.
WHERE THERE TIMES WHEN YOU WANTED TO GIVE UP? IF SO, WHAT KEPT YOU GOING? It was so many times I throw in the towel! I had to be own strength when I didn't want to. I had to be honest about who I was and what I wanted in my life. I knew it wasn't about having material things,even tho those things are always nice. But the ultimate goal was to stay determine through my transition because I needed to keep myself from felling like a failure. It's clearly not an option in my life!
IF YOU ONLY HAD (3) MINUTES WITH OPRAH, WHAT WOULD YOU "ELEVATOR PITCH" BE? Hey Oprah! Thank you for being a aunty in my head. And teaching me to learn from my experiences.
WHAT ARE (3) THINGS YOU ARE MOST PROUD OF?
Believing in myself when I was told that I couldn't.
Trusting God to lead my path.
And having a beautiful angel in my life "my daughter".
WHAT ADVICE DO YOU HAVE FOR OTHER WOMEN ON THEIR JOURNEY TO SUCCESS? I read something that stated "God gives you advice through your intuition. I wrote this down and kept saying it every day. I became my own strength and trusted my own progress. In the end, you'll become your own best friend.