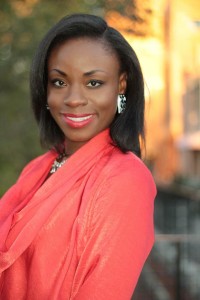 NAME: Nishisksi Chandler
BUSINESS NAME: Thrive Now Nutrition
TITLE: Integrative Health Coach and Wellbeing Concierge
HOW DO YOU DEFINE SUCCESS? Enjoying a life that feels good to me physically, spiritually, financially, and emotionally. Also enjoying meaningful relationships and investing my time and energy to that which brings me fulfillment, joy, and/or growth.
WHAT (3) PROFESSIONAL ACCOMPLISHMENTS ARE YOU MOST PROUD OF? Becoming an Integrative Health Coach. This accomplishment has allowed me to combine one of my dearest passions, which I have had for over ten years, with a business that allows me to inspire and empower people to experience a better feeling life.
WHAT CHALLENGES HAVE YOU ENCOUNTERED ON YOUR JOURNEY TO SUCCESS? My biggest challenges have been time, capital, and limited effective marketing. Lack of time to invest in my business has been the biggest challenge. As managing the demands of life, a demanding corporate job, and relationships sometimes stunts my momentum.
WHAT MOTIVATES YOU? I am largely motivated by empowering people to reach there wellness goals and to feel equipped to take better care of themselves.
WHAT PRINCIPLES OF SUCCESS HAVE YOU LEARNED ALONG THE WAY?
Always begin with the end in mind.
Acknowledge and appreciate what is going well often.
When planning make it a habit to think about the required knowledge, strategy, and execution need to excel.
WHERE THERE TIMES WHEN YOU WANTED TO GIVE UP? IF SO, WHAT KEPT YOU GOING? Since I started this work I have never considered giving up.
IF YOU ONLY HAD (3) MINUTES WITH OPRAH, WHAT WOULD YOU "ELEVATOR PITCH" BE? Hi Oprah. It is great to finally meet you. I am an expert at inspiring and empowered busy entrepreneurs and professionals to make the nutrition and lifestyle transformations necessary to achieve and maintain their health goals. Would you like to know more about how I can partner with you to achieve the short-term and long-term wellness result that you want?
WHAT ARE (3) THINGS YOU ARE MOST PROUD OF?
I love to travel and explore cultures. To-date I have visited 4 of the 7 continents and I plan to visit Africa and Australia soon. At this time, I am not interested in exploring Antarctica. (11 countries visited and explored to-date)
My mother, who was never formally educated beyond 7th grade, always pushed for me to be educated. I am proud of the joy and pride that she had when we celebrated my graduate with a Master of Business Administration.
I have overcome and healed myself of a number of significant health challenges such as asthma, fibroids, and anemia through nutrition and lifestyle changes.
WHAT ADVICE DO YOU HAVE FOR OTHER WOMEN ON THEIR JOURNEY TO SUCCESS?
Invest in yourself through coaching, training, traveling and self-care.
Get an adequate amount of sleep consistently.
Celebrate every milestone and success.