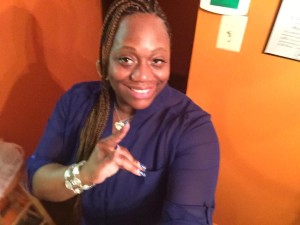 NAME: Sedaris Palmer
EMPLOYER: Baltimore County Public Schools
TITLE: Special Educator
HOW DO YOU DEFINE SUCCESS? To me success is multifaceted, I strive to be successful in all areas of my life. This journey of success is continuous and some days I have to factor in my near wins; embrace them so that moving forward I am able to push it to the win column. Success is the excitement I still feel after nearly 20 years working in the education field. Choosing to go back each day no matter how difficult it may have been and is getting and still giving it my all then coming home to my family and doing the same with the same amount of fervor; taking nothing away from them. That balance is my success.
WHAT (3) PROFESSIONAL ACCOMPLISHMENTS ARE YOU MOST PROUD OF? The three professional accomplishments I am most proud of are…
1. Being a part of a non profit organization called Project MEND (moving ex offenders in new directions)providing vocational and life skills training to men coming out of prison decreasing the rate of recidivism
2. Conducting professional development workshops for fellow educators (non special educators) on working with special needs students in the general education classroom and on State assessment prep.
3. Finally, as a life long learner obtaining dual certification to be a highly qualified teacher without having an education background. Continuously taking courses and obtaining certifications to remain current and acquire relevant skills in my craft.
WHAT CHALLENGES HAVE YOU ENCOUNTERED ON YOUR JOURNEY TO SUCCESS? As an educator there are many challenges that could deter one from their course. I think one of the biggest is trying not to personalize it all. Sometimes getting out of my own way,not thinking I was good enough to even try for certain positions. Was I capable of handling this job- self doubt.
WHAT MOTIVATES YOU? I had a second grade teacher, Ms. Martin, who believed in me and my ability to do and be more. She gave me an opportunity that I believe provided me with my first chance to not be overlooked in my education. That change in placement that many years ago set me on a path that I may have stumbled and fallen down but haven't stayed off of. This motivates me to work just as hard both professionally and personally to meet with success.
WHAT PRINCIPLES OF SUCCESS HAVE YOU LEARNED ALONG THE WAY? The principles of success that I've learned along the way are that you have to stay focused on your plan,no matter how many obstacles may be placed before you you have to stay the course. Don't judge others but always closely examine myself and work on me and lastly I have to know when to hit the reset button- mental health days are greatly needed.
WERE THERE TIMES WHEN YOU WANTED TO GIVE UP? IF SO, WHAT KEPT YOU GOING? There were many times that I wanted to give up because I felt like there was nothing I could do to change things and I wasn't very effective. I had one student that came back and shared with me their successes and thanked me for not giving up on them for pushing them and mostly for believing in them. She told me about her job her apartment and that she had finally passed and received her learners permit. This was very difficult for her with a 3rd grade reading level but we worked daily after school on the book and reading strategies she could use to remember information for the test. Over the years I've had a few stories like this which have come right on time to help me restart my engine and begin again.
IF YOU ONLY HAD (3) MINUTES WITH OPRAH, WHAT WOULD YOU "ELEVATOR PITCH" BE? I'm currently a full time special educator and a partner in a start up non profit organization called Project MEND (Moving Exoffenders in New Directions). I'm looking to make this my full time career because I am passionate about affecting change in our society where there has been a size able gap. It is important to me to pay it forward via this avenue and help this population of men reintegrate into society to be better fathers, brothers, husbands so they can take their roles at the heads of their families and model this for their sons and daughters. The goal of MEND is to decrease the recidivism rate beginning in Baltimore city and hopefully spreading throughout the country.
WHAT ARE (3) THINGS YOU ARE MOST PROUD OF? I am most proud of my family, being a single mom of 3 and having raised my younger sisters and my first son at the age of 21, I think we all turned out ok…better than ok. I am proud of the woman I am (friend mom sister daughter) and that I never gave up Im still standing. I am proud of taking a leap of faith with a friend, Charles Holloway, and moving forward with making his dream our vision a reality and starting our non profit.
WHAT ADVICE DO YOU HAVE FOR OTHER WOMEN ON THEIR JOURNEY TO SUCCESS? The only advice I have to give is to stay the course. Believe in yourself and remain focused on your goal.